Confidence Building: How to Take Full Control of Your Life
Life is notorious for getting hectic and a bit out of our control if we allow it. The good news is that we actually have the power to regain control and to maintain it for as long as we need.
Taking full control of your life means finding the right balance between your work, your personal life, and all the other areas in your life without allowing any of them to get out of hand.
That's why I bring you a few useful tips you can practice to take full control of your life!
1. Practice Discipline
Discipline is important when it comes to taking control, but the trick is to apply that discipline to all aspects of your life, not just your work. Your free time and the time you dedicate to loved ones, hobbies, and other activities, is just as important as the time you spend working. So, dedicate all your time and attention to work while you're at work, but make sure you respect your free time in the same way, and schedule it if you have to.
2. Learn to Say NO and Stick By It
I know sometimes it's difficult to not have the desire to please everyone, but you need to be respectful about your priorities. As an adult, it's important that you learn how to say no and stick by it, without feeling guilty. If someone asks you to do something but you simply can't (and shouldn't) alter your schedule or your own plans to do so, just say "no". As simple as that! Don't explain yourself if you don't want to and don't lie by saying "you'll try" or something to that effect.
3. Constantly Try New Things
Taking control of your life also means being able to expand your horizons constantly and fearlessly. Make a habit of trying new things, even if it's as small as trying a new coffee shop. Jump at any opportunity to try things that are out of your comfort zone and that you wouldn't think of doing on your own. The more you say yes, the more invitations you'll get and the more you'll have the desire to try things on your own. This kind of experiences can teach you a lot about yourself, not to mention that you will be able to learn new things, make exciting memories, and just have fun.
4. Pay Attention to the Teachings of Life
We all face issues, breaking points and challenges in our lives. Many shy away from them and adopt this defeated kind of attitude, but I suggest you embrace these things as you as you embrace the positives. Moments of hardship can be illuminating if that's what you want them to be and they always have something to teach us, so don't ignore them. Going through those things is necessary because we always come out more resilient and resourceful on the other end. If you do that, you'll be taking full control of your experiences.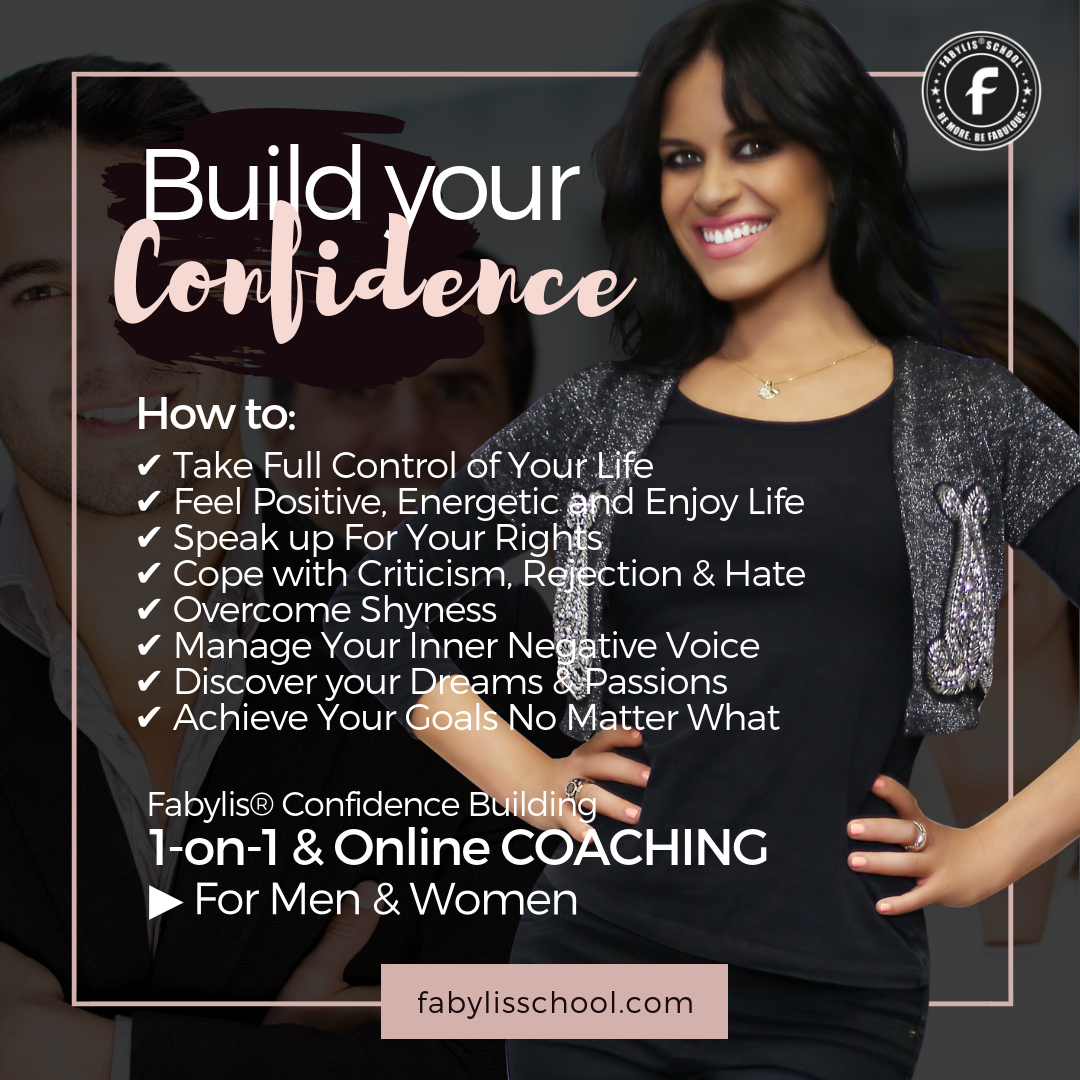 Build Your Confidence
Learn how to:
✔︎ Take Full Control of Your Life
✔︎ Feel Positive, Energetic and Enjoy Life
✔︎ Speak Up For Your Rights
✔︎ Cope with Criticism, Rejection & Hate
✔︎ Overcome Shyness
✔︎ Manage Your Inner Negative Voice
✔︎ Discover Your Dreams & Passions
✔︎ Achieve Your Goals No Matter What
▶︎ Book your private Fabylis® Confidence Building coaching with Fabienne Liechti personally, 1-on-1 or on Skype or FaceTime.